I Haven't seen many decent reviews on this so I might thought I'd attempt my first review on this Gun
The Haw San Toys Mad Max 8mm double barrelled sawn off.
The box it arrives in is nothing to write home about just a double walled cardboard box with a picture and the name of the gun on, inside is just a thin vacuum formed piece of plastic that holds the gun, 2 shells and sample bbs, theres also a space for 2 extra shells if you ordered them.
Its a weighty gun, which it should be for being all metal and wood, I don't think there's a shred of plastic on this gun, But I had intended this as a fun backup and wanted to use single handed, it can be done but not for a long time.
To load the shells themselves is pretty straight forward, you break the gold bit off and fill it up with gas through a valve in the top and you load the bbs in the top of the blue bit, then snap them back together. The 8mm shells can hold anywhere from 1 - 5 bbs where as I believe the 6mm version can hold up 7, the fewer bbs you put in, the more power you'll get.
The shells themselves are an ok price I think if you have a disposable income, coming in at £11+ postage per shell, I'll be buying 2 shells per week I think till I have enough that I can last a Urban game with out having to reload each shell.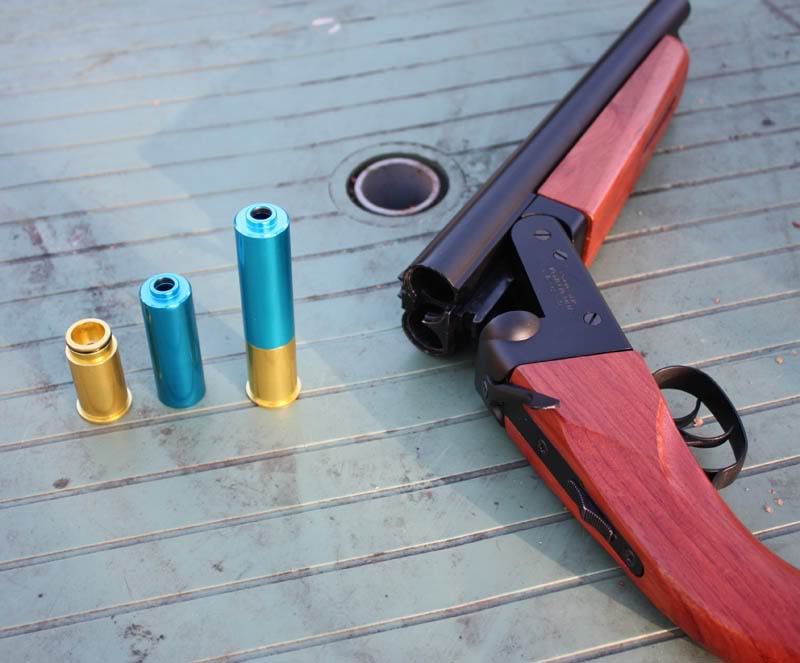 It functions pretty much as a real shotgun would which is very nice, to load the shells into the gun you flip the break lever across to the right and the barrels flip down (on a real shotgun the lever arm is sprung which it isn't on the gun I have) put a shell in each barrel, flip them up and push the lever arm back to the left to lock the barrels and shells in place, at first closing the barrels is quite hard but eases up with use, it has two triggers one for each barrel and with a slight finger alignment can be pulled at the same time and once fired you break open the gun again, the shells do not eject thankfully but do pop out on a guide and it should be relatively easy to reload with gloves on. The safety is located behind the lever you simply slide it up to engage the safety and slide down to dis engage it.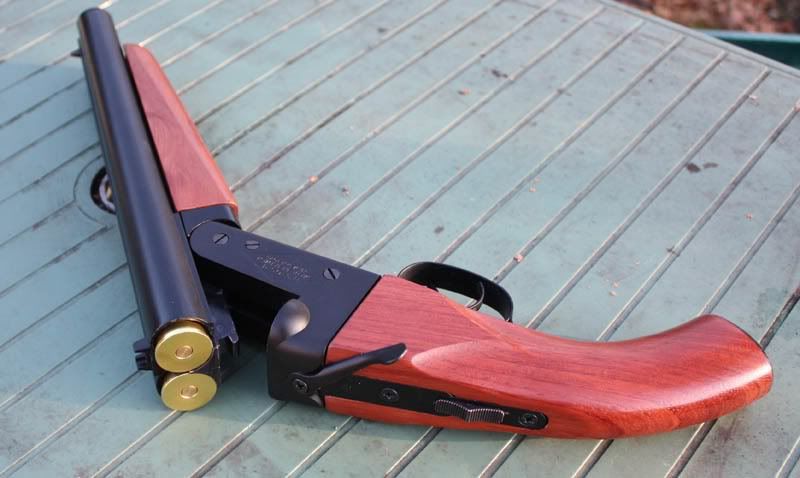 I've not skirmished with this yet but intend it as a fun backup so i cant really say how skirmishable this gun is, I have however fired all the sample bbs and even got the fiancée to shoot me with a shell loaded with 5 bbs (which I think she enjoyed far to much for my liking) so i can get a rough estimate of an effective range, power and spread, at around 30 yards she hit me with 3 of the 5 bbs, 1 hitting my left shoulder and 1 in each love handle the other 2 flew off 1 either side of me and it STUNG, so its going to be a pretty fun, (read challenging) gun to use, I don't know the fps its firing at and don't really know how i can effectively chrono it but I definitely dont envy any one getting hit on bare skin or the face as ill be using it in close combat.
The only problem I've read about seem to be that the o-rings deteriorate quickly but the shells are easy to break down and the spare o-rings can be found easily
I've also found that there aren't that many sawn off holsters which is rather annoying and I'm not really going to buy a mad max replica one for £50+ so I've made a normal holster fit the shotgun by just slicing down the stitching in the middle, it works pretty damn well with a fast draw and holds the gun pretty snug but its not going to win any beauty contests.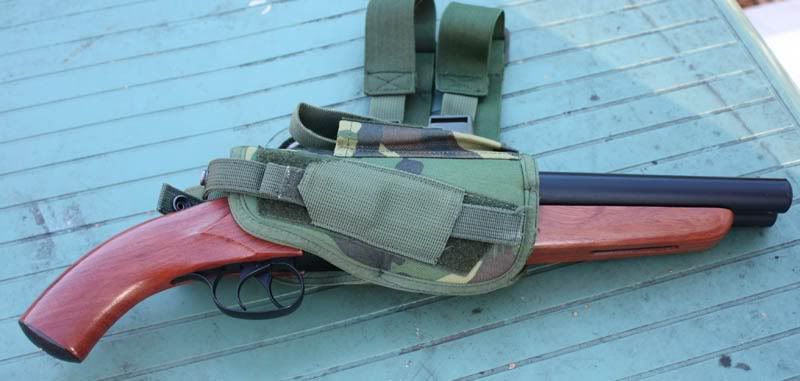 I'll put up an after action report after I've used it at the next GZ woodland which by then I should have 8 shells.
Thanks for reading and hope the review was ok