The L119a1 or C8SFW is a modified C8 rifle made by Colt Canada/Diemaco, a carbine version of the C7 rifle in turn based on the M16 design. The SFW could seem similar to an m4 but it's more like a distant cousin. And more reliable due to the quality of the manufacturing in the Canadian plants.
The Brits have been using the rifle since 2000 (rumoured first seen in OP Barras) and have used them prominently in Iraq and Afghanistan. It is issued across the board in the SF group of units (SAS, SBS, SRR, SFSG) but has also been seen in the hands of Pathfinders as well as other, more mobile troops.
The rifle differs to your regular m4 carbine in a number of ways in terms of building an airsoft version, including a new barrel and a different stock.
Lets talk parts.
The Barrel
First option is to get the whole barrel itself. Army code and Pro Arms both made full barrel set ups, which were split into a 10-inch part and a 6-inch extension. Second option is an extension for a 10-inch Or 10.5 CQBR weapon. A number of people have gone down this route and picked up extensions for a number of places, Perr Mike makes correct 6 inch extensions for 10 and 10.5 inch barrels.

Stock
The stock seen used on the SFW is an old car15/m733 style stock like this one below, but more recently Magpul stocks have seen used on rifles in Brit hands.
Easy to pick up second hand on airsoft forums, it is for some reason difficult to buy these from a retailer now. These are often seen combined with a butt pad for car-15 stocks, often tied on with cable tie, Guarder and G&P make a nice replica with ridges in the back. (Butt pads are generally available from most Big Retailers)
Storm Grip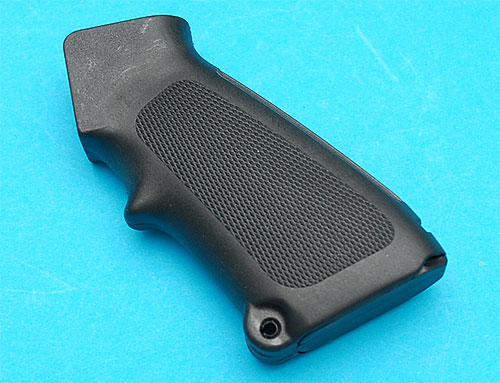 While not vital, it has been seen on many a real picture and adds to the overall look, this one above is meant to fit Systemas, and both the Systema and AEG versions are available from number of UK and HK retailers
Front Sight
Army code made a batch of these a few years ago, but they are like hens teeth now and the best option is to miliput your m4/m16 front sight. Mighty Jebus on a certain forum is now making up a batch made from Aluminium but you will need to donate the working parts from another front sight.
L119a1 Receiver
Again not vital but totally adds to the look to have correct trades.
G&P and Dboys both make offerings for v2 gearboxes, other options are just to have a blank receiver or paint out your trades as there is real steel weapons knocking about with blank receivers and even c8a1 receivers, with ics weapons you can have trades But it requires some skilful work with Miliput, also for Systema users, it is possible to get a blank receiver engraved. Another way to combat the wrong trades is to attach a ready mag; personally I think they look horrid.
RIS
The Ris rail seen used on L119a1s and CQBs is the KAC ris. Loads of manufactures make these, including G&P, CA, ICS, JG, and Dboys among others. And you can pick one up in a retailer of you choice more often than not.
Sights
ACOG
First of is the ACOG, the Brits were issued the TA01 style acog without the fibre optic and with the battle iron sight on-top
But the one with fibre optics has been seen in use recently.
Tonnes of people make these, including G&P and Ares, Also some China Companys make some nice offerings, I have one myself and are bloody brilliant for the price. Or the Acog and Doctor combo, this is a fancier option, but in my opinion the most practical.
Again a few people make these but ACM again has some good offerings.
Protective wing mounts
A few acog and doctor combos have been seen with wing mounts to protect the doctor red dot. Rudy on a UK forum got a big batch of these made, although these are available on ********** again.
DIS
These are like hens teeth again, I know some people would go wild for one, there was a batch made if I recall right but they went for 100 quid each. A US retailer also has a similar sight in stock but it does not have the diemaco markings. Again these are supposed to be in the pipeline
Other Sights
Also Eotechs and Aimpoints have been seen in action with the uksf lads on the CQB rifles in the famous Iraq set of pictures.
So it is not out of the question to run an Aimpoint M4 with backup on your shooter or similar setup. But mind it does not look as British as the Acog or Dis combos.
Also the Elcan Spectre DR has been rumoured to be in use recently.
Flashhiders and Suppressors.
Along with regular m4 style birdcage flashhiders, Vortex flashhiders and FH556 have been seen used on SFWs
The FH556 is meant to be used in conjunction with the surefire 556 suppressors

The surefire suppressor
Perr Mike has made a few batches of these.
Accessories
PEQ Boxes
Both the PEQ2 and the PEQ15 have been seen in use on the l119a1 and c8 CQB
Loads of manufacturers make the peq2 as a battery box option, and ACM have some excellent peq15s with lasers or lipos inside them.
Vert Grip
A number have been seen in use on the SFW, including Tango Down grips and Troy style grips along with the standard KAC vert grip and the fancy Bipod grips now used with the British SA80.
Again a few replicas have been made, but getting your hand on a real one wont be much of a problem at all.
Flashlights
It seems the Surefire G2s were originally issued with SFWs, followed by Scouts, which is the most popular option now.
It's not hard to pick up a real one and a few replicas have been made, especially made by element.
Also seen in use is the llm01 taclight also used on the SA80, I have heard VFC made a run of these and also there was a private run of replicas too. I heard through the grapevine that Element have one in the pipeline.
UGL/AG36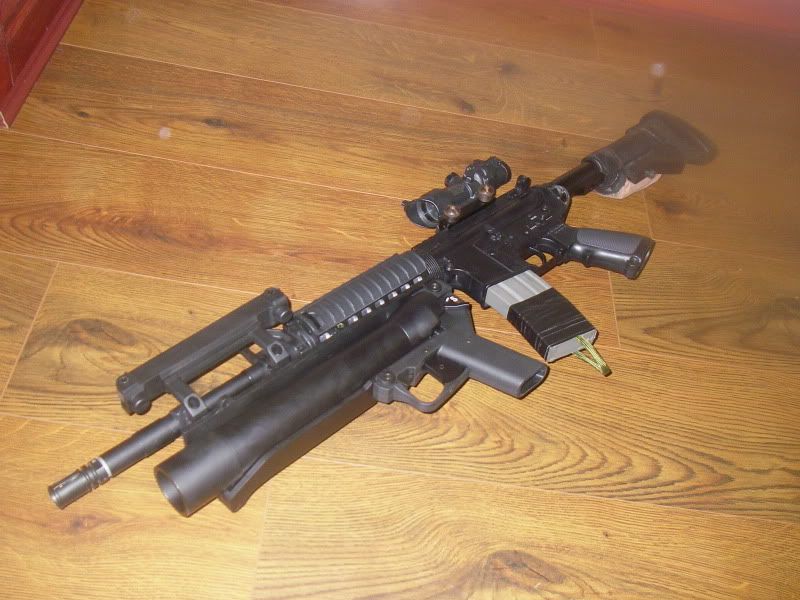 Last but not least is the UGL, and the general consensus is if you're not built like a tank, its very cumbersome. A French forum did supposing a good guide on how to fit a Star one to your SFW But I cant seem to find it at the moment The one above is an airsoft version put on with an m4 carry handle and paracord.
Any Questions feel free to post below
Thanks for reading.
Murta369.